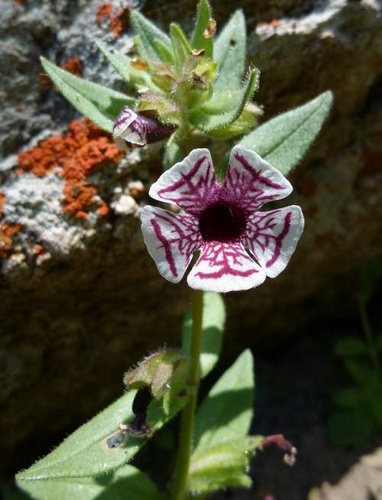 A truly rare gem. Calico Monkey Flower Mimulus pictus
This wildflower is endemic to California, found only above the southeastern San Joaquin Valley within Kern County and Tulare County.

It is known only from the western Tehachapi Mountains and southernmost Sierra Nevada foothills, at elevations of 443–4,101 ft. It grows in open California oak woodland habitat, in bare rocky soils around granite outcrops.

Nothing like any Mimulus you have ever seen. A very rare and unusual plant with creamy-white rounded petals delicately patterned with fine dark-red to purplish brown spider web-like lines. Foliage is velvet fuzzy textured. Loves a well drained but moist soil in light shade. Zone 8+. Low growing about 6" to 12" in well drained, moist soil, sun or part shade.
It is a listed Endangered species on the California Native Plant Society Inventory of Rare and Endangered Plants.

Seeds available here: