Wow! The plant kingdom at its flamboyant best.

The highly ornamental Sapphire Tower is a hardy bromeliad relative native to regions of Argentina and Southern Chile along the slopes of the Andes Mountain Range.
It grows in areas with relatively dry and well drained soils with plenty of sunlight and does not require a lot of water.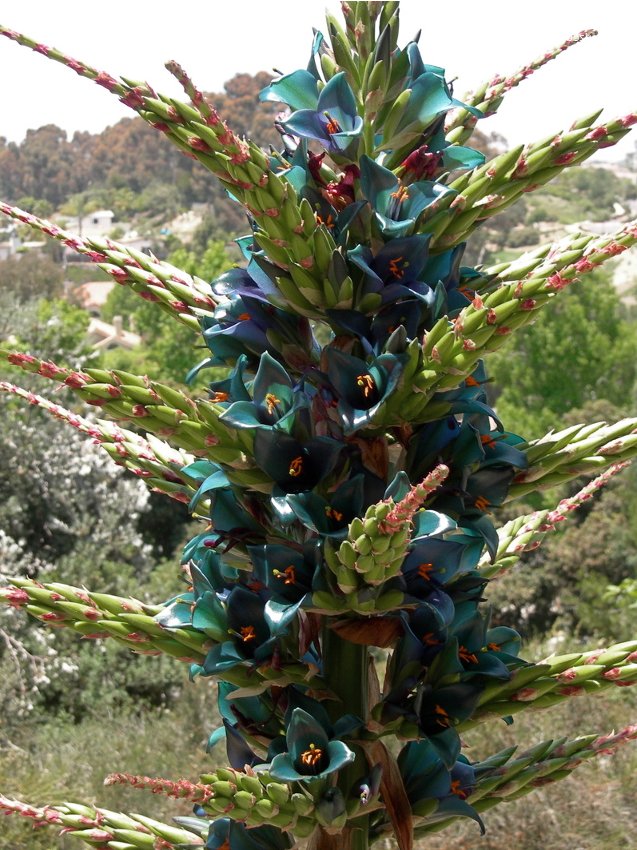 It produces 2-3 foot wide rosettes of marginal-spined leaves that are silver-gray and striped beneath.
When mature, the 4-5 foot tall, thick branching spikes produce long-blooming flowers that are neither sapphire blue nor sapphire green; they are an intense combination of the two colors. Bright orange stamens provide a lively contrast. A truly unique and incredible flower color. Blooms faster than the related Puya berteroniana.

In South America, the fleshy hearts of Puya flowers are frequently shredded, similar to cabbage in coleslaw and eaten in salads.
This plant makes a good specimen accent in a dry garden. It also works well in containers. Zones 8-11.
Seeds found here:
Puya 30 Seeds for sale
Plants found here: Puya Plants for sale